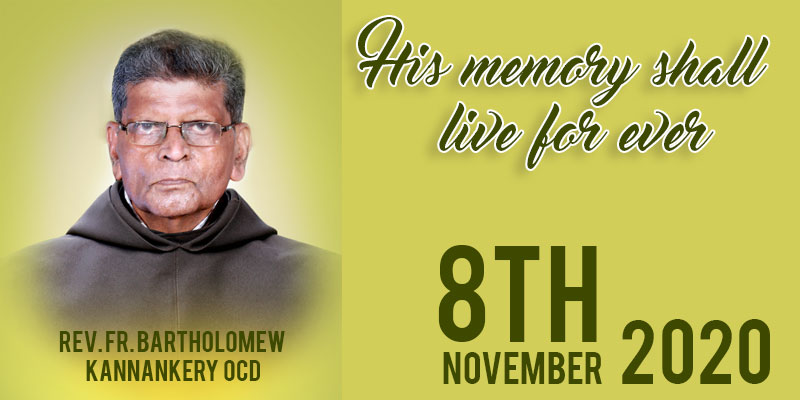 His memory shall live for ever
Rev. Fr. Bartholomew Kannankery, aged 83, left for his eternal reward today (November 8, 2020) at 12:30 p.m. His mortal remains is kept in the mortuary. Those wishing to pay homage may do so tomorrow (November 9, 2020) from 8:30 a.m onwards after which it will be made open for the public from 10:00 a.m. onwards. The funeral rites will begin at 11:30 a.m. in accordance with the guidelines of the government for the lockdown.
Rev. Fr. Bartholomew Kannankery of Jesus Cricified was born on 26-10-1937 at Chakyamuri, Kumbalangi, Kerela. He embraced the Discalced Carmelite way of life and joined the Manjummel Province in 1954. He made his First Profession on 26-03-1957 at St. Joseph's Novitiate House, Podannur, Tamil Nadu. His made his Solemn Profession in the year 1959 at Manjummel and was ordained priest on 15-03-1964 at Mangalapuzha, Kerala.
He began his service in the Province as a conventual in Manjummel. Later he was appointed as the manager of Fatima Institute at Perumpadappu. At that same time he also served the Province as the third councilor to Fr. Jerome Payappilly OCD, who was the Provincial then. Later he became the Director of Aspirants at Ernakulam. His service extented to the diocese of Cochin, where he served as the director of K.C.Y.M and K.C.S.L. He was superior of various monasteries such as Perumpadappu, Kanichukulangara, Kottayam and Ernakulam. As Novice Master and Master of Philosophy Students, he played an important role in forming the future priests of our Province.
He was the Provincial of our Province from 1984 – 1987. Thrice he served as the Provincial councilor.
While being the superior of Kottayam monastery, he was also the local manager of the Holy Family High school, Kottayam. He served as Parish Priest in Kottayam and Perumpadappu.
He spent his last phase of life in the Carmelite Monastery, Manjummel. He breathed his last on 08-11-2020. The funeral rites will be at 11:30 am on 09-11-2020 at Immaculate Conception Church, Manjummel. The Manjummel Province Discalced Carmelite family remembers with gratitude his aptitude for peace and serenity.
Share on Facebook
Share on Twitter
Share on Pinterest