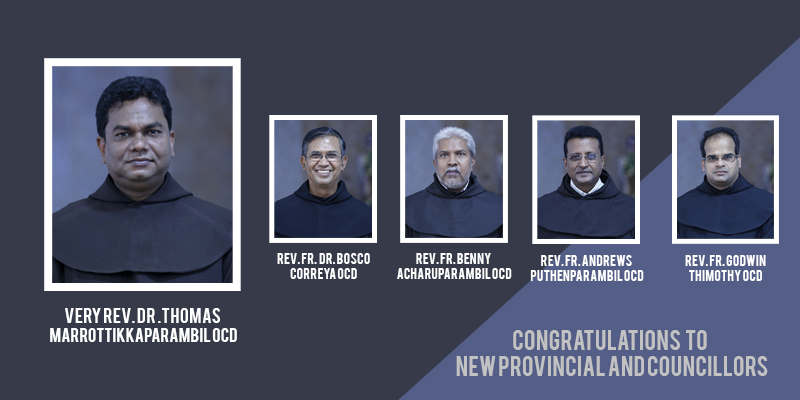 CONGRATULATIONS TO NEW PROVINCIAL AND COUNCILLORS
18th Ordinary Provincial Chapter of Manjummel province begun on 9th July 2020. Probably for the first time in the history of the Province the chapter is being conducted online. The Chapter Fathers have come up with a new name Very Rev. Fr. Thomas Marottikkaparambil OCD as the Provincial Superior of Manjummel Province. Let us pray for him together as a Province. Let us wish our Provincial everything best and the special blessings of the Holy Spirit to guide the Province..
The New Councillors
The Provincial Chapter has elected the four councillors to accompany the Provincial in the administration of the Province. They are:
1. Rev. Dr. Bosco Correya OCD
2. Rev. Fr. Benny Acharuparambil OCD
3. Rev. Fr. Andrews Puthenparambil OCD
4. Rev. Fr. Godwin Thimothy OCD
Let us pray for them that the Lord may guide them in all virtues, and that they work as a team and bring the province to great heights, both spiritual and temporal.
Share on Facebook
Share on Twitter
Share on Pinterest