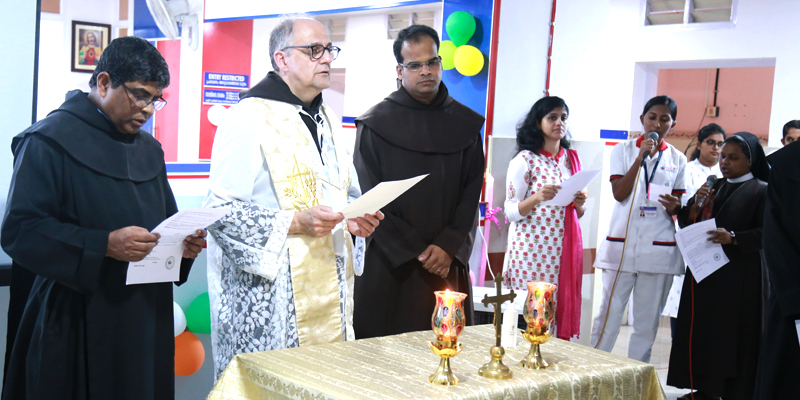 VISIT OF SUPERIOR GENERAL AND DEFINITORS AT ST.JOSEPH'S HOSPITAL MANJUMMEL
February 14, 2019 is an unforgettable day for St. Joseph's hospital at manjummel because of two reasons.
First the high command of the carmelite order around the world with its full crew, meaning to say the Superior General with all his Definitors, visited our hospital at 3.40 PM. Second the SAN JUAN block consists of 23 rooms assigned exclusively for the depts. of Orthopedics, General Surgery and Psychiatry was inaugurated by Very Rev. Dr. Augustine Mulloor, the Chairman of the hospital and blessed by Very. Rev. Dr. Saverio Cannistra the Superior General in the august presence of the Definitors and St. Joseph's hospital family.
The entire staffs on duty received them at the main entrance offering bouquets to them guided by the Director of the hospital. Then they were led to the San Juan block at the second floor for its inauguration and blessing. Preceeded, there was the distribution of certificates to the staffs who completed their BLS and ACLS short term courses in the hospital by the Superior General. Following there was a PowerPoint presentation on hospital. Finally Very. Rev. Fr. General blessed us with his message.
Then they were taken to the board room for a high tea. They left the hospital by 4. 30 pm marking their sense of satisfaction and gratitude at the development that are taking place in the hospital.
Share on Facebook
Share on Twitter
Share on Pinterest