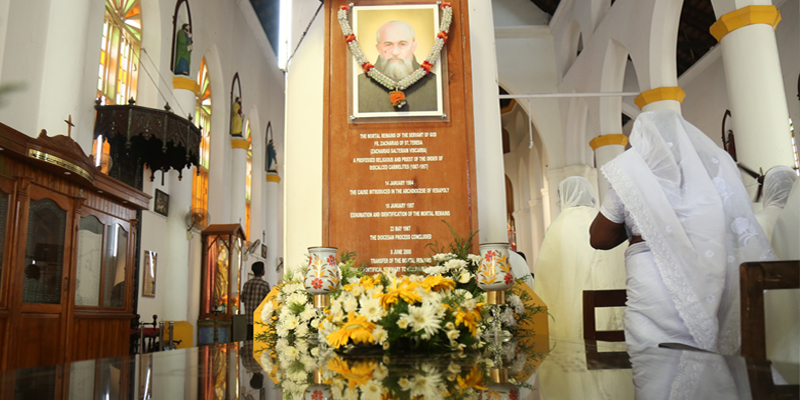 VEN.FR.ZACHARIAS OCD MEMORIAL DAY 2019
The 62nd Death anniversary of Ven.Fr.Zacharias OCD was celebrated on 23rd May 2019 at Manjummel. The program started at 09:30 am at CRC Manjummel. The theme of this years celebration was "Ven.Zacharias the Formator". Fr.Titus Karikkassery OCD(The Vice-Postulator) gave a short Introduction on th event and welcomed the whole congregation warmly.
Very Rev.Fr.Augustine Mulloor OCD(Provincial) challenged the congregation through his message on the personality of Ven.Zacharias the Formator of Priests, Missionaries and Faithful and declared the event inaugurated. A "Mission Expo 2019" was arranged to bring to light the artistic works of our members. Nearly hundred pictures and a few other images were presented. Very Rev.Fr. Provincial opened the "Expo 2019" for the public. New Medels, Lockets and Key chains aith the Picture of Ven.Fr.Zacharias was blessed and distributed by Very Rev.Fr. Provincial.
Rev. Dr. Prasad Theruvath OCD led the Seminar on the topic "Ven.Fr. Zacharias: Model of Formators". It followed the prayer session led by the CRC community.
The Congregation gathered togather again after the lunch for the " Mega Quiz 2019" basing on Ven.Zacharias. It was conducted exclusively for the OCDS(Secular Carmel). The staffs of St.Josph`s Hospital, students from Guardians Angels HSS and Guardian Angels Public School made the situation more colourful through their stage programs.
At 04pm everyone gathered in the Immaculate conception Church for the Eucharistic celebration. Rt.Rev.Dr.Paul Antony Mullassery , the Bishop f Quilon Dioces, was the main celebrant and Rev.Dr.Antony Pattaparambil, KRLCC Heritage Commission Secretary, broke the Word.
Rev.Fr.Varghese Kanichukattu OCD, Superior of Manjummel Monastery, thanked everyone wholeheartedly and Rev.Fr.Titus Karikkassery OCD led the prayer at the tomb of Ven.Fr.Zacharias.
More than thousand people participated in the celebration. The celebration was made more colourful by the participation and cooperation of different members of both men and women religious congregations, OCDS members, different commitees from the Parish. The event came to an end with a cup of Tea.
Share on Facebook
Share on Twitter
Share on Pinterest