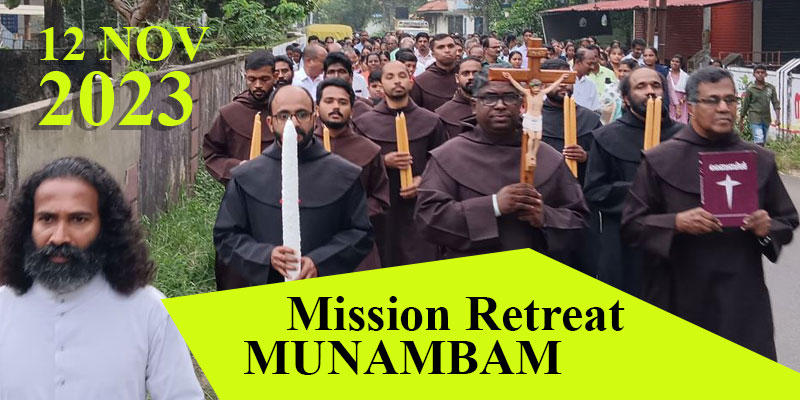 Mission Retreat At Munambam
November 12, 2023
Author:
In a celebration of faith and community, the Carmelite Fathers of the Manjummel Province inaugurated a mission retreat at the Holy Family Church in Munambam on 13th November 2023. The event coincided with the silver jubilee celebration of the Holy Family Church, drawing a congregation of devoted participants eager to partake in the spiritually enriching retreat.
The retreat, led by esteemed Carmelite Fathers, commenced on the evening of November 12, 2023, setting the stage for an immersive and reflective experience for attendees. The jubilant atmosphere was palpable as the Mission Retreat unfolded, featuring talks from several Carmelite Fathers who graced the occasion.
Among the prominent speakers were Fr. Babu Paul, Fr. Nelson Job, Fr. Prasad Theruvath, and Fr. Sibi John, each sharing their insights and spiritual guidance with the gathered faithful. The collective wisdom and teachings of these revered fathers added a profound dimension to the retreat, fostering a sense of community and deepening the spiritual connection among the participants.
The Holy Family Church became a hub of spiritual engagement as the Carmelite Fathers, known for their commitment to fostering faith and community, led the congregation through moments of prayer, reflection, and shared spiritual growth. The jubilee celebration provided an opportune moment for the local community to come together and celebrate both the milestone of the Holy Family Church and the collective journey of faith.
The retreat not only offered a space for introspection and spiritual renewal but also served as a testament to the enduring strength of the faith community in Munambam. The devotion and active participation of the attendees underscored the significance of such events in nurturing the spiritual fabric of the community.
As the Mission Retreat unfolds over the coming days, the Carmelite Fathers and the faithful of Munambam anticipate a continued deepening of their spiritual journey, fostering a sense of unity and purpose that extends beyond the jubilee celebration, leaving an indelible mark on the hearts of all those in attendance.
Author:
Share on Facebook
Share on Twitter
Share on Pinterest