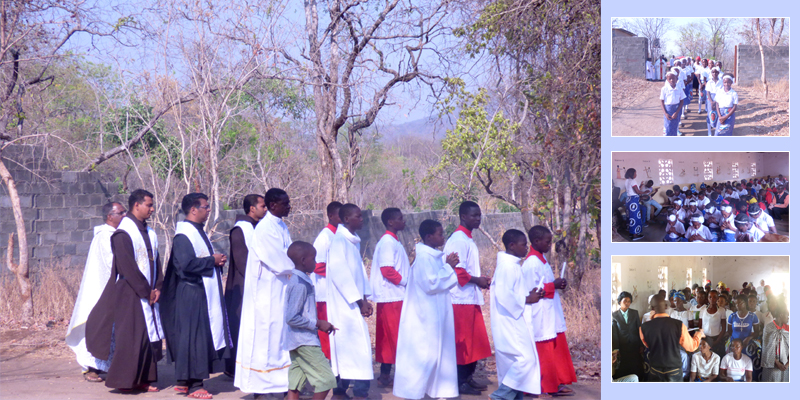 FEAST CELEBRATION AT ST.TERESA'S MONASTERY PARISH, CHAMILALA, AFRICA
The feast of St. Theresa of avila in our St. Theresa's Monastery Church at Chamila, Africa was held on 12, 13 and 14 October 2018. The first day Holy Mass and the breaking of the word was done by Fr. Robin OCD and Fr. Jijoy OCD and Fr. Joseph OCD on the following days. Fr. Mathew OCD, Fr. Jijo OCD and Bro. Sunu OCD joined the celebration so it was adding the real community spirit. People from most of the outstations came for the Parish feast and stayed there for all days.
Chamilala Parish Consist of 4 outstations KachaIola, unyana, Nyalugwe and Chamilala and some small Christian Communities Lamek, Kachindu, Kazansamula, Ucha. This parish has its boundaries around 65 Square KM and in between 50-100 Christians in each communities.
[ngg_images source="galleries" container_ids="22″ display_type="photocrati-nextgen_basic_thumbnails" override_thumbnail_settings="0″ thumbnail_width="240″ thumbnail_height="160″ thumbnail_crop="1″ images_per_page="20″ number_of_columns="0″ ajax_pagination="0″ show_all_in_lightbox="0″ use_imagebrowser_effect="0″ show_slideshow_link="1″ slideshow_link_text="[Show slideshow]" order_by="sortorder" order_direction="ASC" returns="included" maximum_entity_count="500″]
Share on Facebook
Share on Twitter
Share on Pinterest