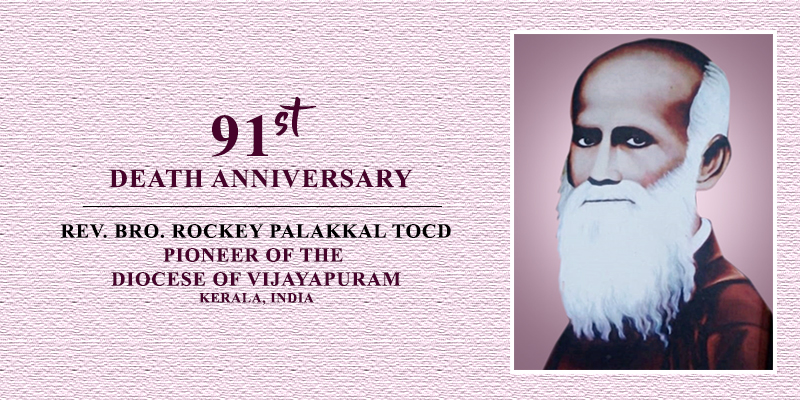 91ST DEATH ANNIVERSARY OF REV. BRO. ROCKEY PALAKKAL TOCD :PIONEER OF THE DIOCESE OF VIJAYAPURAM
Bro. Rockey was born on 17 September 1843 in a traditional family of Palakkal at Pallipuram in the parish of Our Lady of Snow of the present diocese of Kottappuram. Persuing the ardent desire to commit himself through embracing the religious life, he became a Carmelite in the month of February 1867. Responding positively to his call, he made his religious profession in 1873 at the Carmelite Monastery at Mannanam, Kottayam. Following the zeal of St. Paul the apostle, he desired to proclaim the Good News among the non-Christians. Obtaining the permission of Bl. Kuriakose of Chavara, then his Superior, Bro. Rockey started his mission centered at Mannanam. Even though he was sent to Verapoly for a short period of time, he returned to Kottayam in 1880 following the ordinance of Dr. Marceline OCD, the Auxiliary to the Archbishop of Verapoly, dr. Leonard Mellano OCD.
In this way, Kottayam, then a part of the diocese of Verapoly, became the main mission are of Bro. Rockey. He worked passionately among the backward class of the society in the areas of Thellakam, Vadavathoor, Nattakam, Veloor, Kurichy, Chengalam and Kumarakam near Kottayam. The tiresome travels that he realised during this time to Mumbai, Kolkota, Chennai, Pondichery, Mangalore, Mysore, Salem, Coimbatore and Srilanka for the financial assistance in the mission area, show the enthusiasm and the Carmelite zeal that he had. Accomplishing all his duties well, this greatest missionary left for his eternal abode on 29th October 1927 in the Monastery of Manjummel. He is well recognized and known as the pioneer of the diocese of Vijayapuram.
There occurs the 91st death anniversary of Rev. Bro. Rockey Palakkal on 29th October 2018. So the community of Good Shepherd monastery and the parish, celebrates this auspicious occasion with splendour. The anniversary is observed with the Solemn Eucharistic Celebration presided over by His excellency Rev. Dr. Sebastian Thekkethecheril, the bishop of Vijayapuram, on 31st October 2018 at 6.00 pm.
Share on Facebook
Share on Twitter
Share on Pinterest