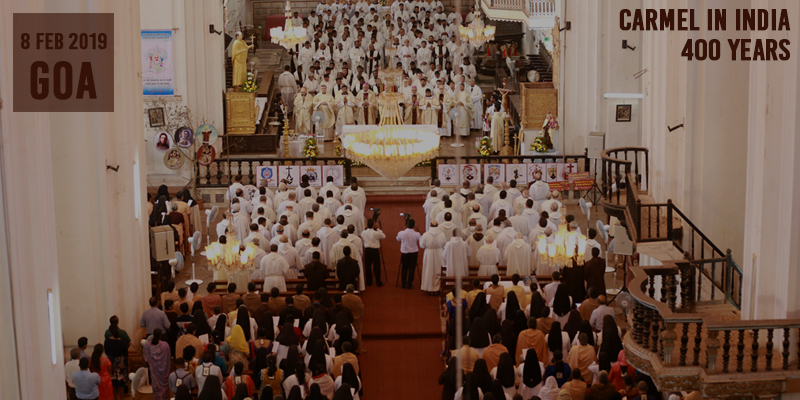 CARMEL IN INDIA 400 YEARS
400 YEARS OF CARMEL IN INDIA (08.02.2019, Goa): Today early morning buses and cars from different parts of Goa marched towards Old Goa, to the location of the first monastery of the Discalced Carmelites (OCD) in India, founded in 1619. As we reached the historical site, the view was amphitheatrical…it looked old with reconstructed ruins of the first carmelite church, smelled natural with surrounding trees and bushes, feeling the chill of the early morning Goan breeze.
Within few minutes, Very Rev. Fr. General, Definitors, Provincials of the Order, representatives (fathers and brothers) of all Indian OCD Provinces and a good number of local faithful reached the site to celebrate the commemorative mass of the 4th Centinary of Carmel in India.
At 7.45 am the Solemn Mass began by Very Rev. Fr. Saverio Cannistra (Superior General) as the main celebrant and around 130 fathers as concelebrants. Fr. Archiebald Gonsalves OCD (Superior of Madgaon monastery, welcomed everyone, Fr. General delivered the homily, Fr. Johannes Gorontala OCD (Definitor General) thanked the congregation as well as the organisers for the festive ceremony.
Having worshipped the Lord for the gift of martyrs Blessed Dionysius and Blessed Redemptus, Fr. General and the Definitors placed wreaths on the three new tombs, which were excavated inside the historical church plot. One of the tomb is said to contain the mortal remains of five lay martyrs of Persia, brought to India by the first Carmelite missionaries.
After posing for a group photo and breaking the fast with a refreshment all dispersed to their own locations and houses for the day's business, to be back for the dinner in the evening in the Carmelite Monastery at Madgaon.
Share on Facebook
Share on Twitter
Share on Pinterest