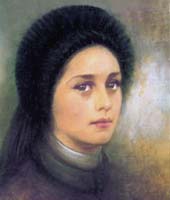 Blessed Maria Mercedes Prat
Mercedes Prat was born on March 6, 1880, in Barcelona, baptised on the following day, and made her First Holy Communion on June 30, 1890. From her childhood she gave herself completely to God, whom she received every day in Communion. She displayed a great love for her neighbour and tried to foster this kind of love in others. During her years in school, she was known for her goodness and her dedication to school work, excelling especially in painting and needlework, which were areas in which she had a natural talent.
Entering the novitiate of the Society of St Teresa of Jesus in 1904, in Tortosa, she made her temporary profession in 1907. She was a religious 'according to the heart of God:' prudent, and truthful, calm and gentle in her reactions, having a natural goodness in all her dealing with others, but firm in character. God was her one love, and her love for God kept growing to the point where she would give her life for Him. In 1920 she was assigned to the motherhouse in Barcelona. From there the path to martyrdom began on July 9, 1936, when the community was forced to give up the school and flee. On July 23, because she was a religious, Sr Mercedes was arrested and shot; she died in the early morning of July 24, 1936.