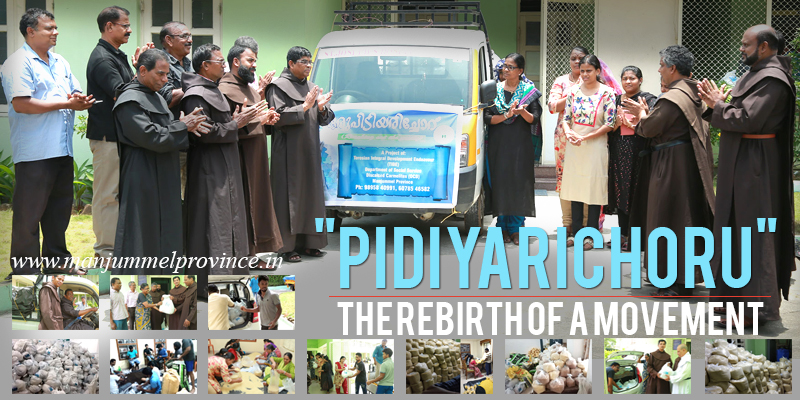 "PIDIYARICHORU" THE REBIRTH OF A MOVEMENT
It was the 150th death anniversary of Rt. Rev. Dr. Bernardino Beccinelli OCD, the Vicar Apostolic of Verapoly Vicariate, when kerala saw one of the greatest floods of all time in August 2018.
A programme initiated by Bishop Bernardino Beccinelli 150 years ago to keep aside a share of a handful of Rice for the others before cooking your own share, is taken up by the fathers of Manjummel province as a continuation of the spirit of Bishop Bernardino Beccinelli.
As a part of the several programmes aimed at bringing to normalcy the day today life of the people destroyed by the flood, the TIDE( Teresian Integral Development Endeavour) has initiated this movement-"Pidiyarichoru" It is a packet of rice, gram, coffee powder, and sugar put together by several generous and kind heart.
This movement targets to bring together 20,000 packets. And to start with, it has already distributed in Manjummel, to people irrespective of cast or creed; and the pilgrimage will reach out to the place like Gothuruthu, Chennur, Mannanthuruthu, etc.. Let the Manjummel Carmelites and their helpers, through this venture, be the hands of God that reach to the poorest of the poor.
Rev. Fr. Augustine Mulloor, the provincial superior, in the presence of his councillors, Fr. Antony Ponvelil and Fr. Nixon Akkapilly, and social service Co-ordinator Fr. Shibu Xavier and companions Fr. Varghese Kanichukattu, Fr. Sunil Pazhampilly, Mr. Aquinas, and other fathers and their companions, inaugurated " Pidiyari Choru" in the Manjummel Province Provincial House
[ngg_images source="galleries" container_ids="21″ display_type="photocrati-nextgen_basic_thumbnails" override_thumbnail_settings="0″ thumbnail_width="240″ thumbnail_height="160″ thumbnail_crop="1″ images_per_page="20″ number_of_columns="0″ ajax_pagination="0″ show_all_in_lightbox="0″ use_imagebrowser_effect="0″ show_slideshow_link="1″ slideshow_link_text="[Show slideshow]" order_by="sortorder" order_direction="ASC" returns="included" maximum_entity_count="500″]
Share on Facebook
Share on Twitter
Share on Pinterest