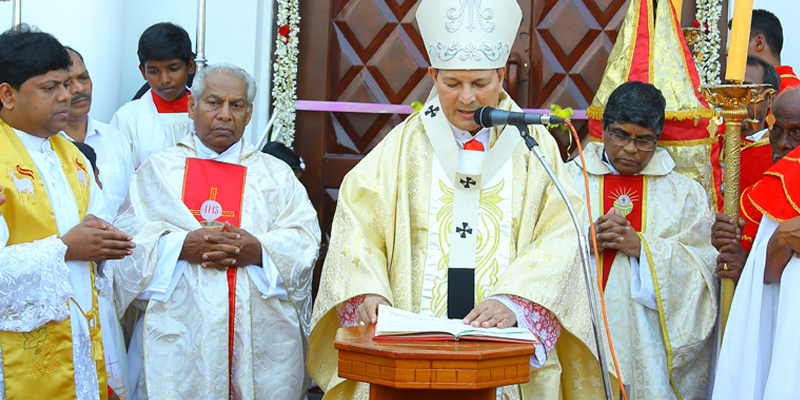 BLESSING OF RENOVATED ST. JOSEPH'S AND MOUNT CARMEL CHURCH, VARAPUZHA
St. Joseph's and Mount Carmel Church, Varapuzha was in glorious splendour when this renovated church was blessed and rededicated on 24th February 2020. History never ceases to hover over this beautiful church as it is one of the oldest and prominent Latin Catholic Churches in India. Being the first Head Quarters of the Archdiocese of Verapoly , the church was built in 1673 with the special sanction of the then Dutch Governor Hendrik Van Rheede as a token of his gratitude to Rev. Fr. Mathews Of St. Jopseph OCD who presented him the celebrated botanical treatise entitled Hortus Malabaricus. Ever since the spiritual aroma of the church under the guidance of the Discalced Carmelites began to spread around and Varapuzha Church became Mother Church to 14 neighbouring parishes. It is also blessed to contain the mortal remains of 28 saintly missionaries.
It is the prayerful wish of the whole parish and the Discalced Carmelites of Manjummel Province that the Church be raised to the status of a Basilica. In preparation for the embracement of that precious moment the existing church was renovated. His Grace Most Rev. Dr. Joseph Kalathiparambil, Archbishop of Verapoly accompanied by Very Rev. Fr. Augustine Mulloor OCD, the provincial of the Discalced Carmelites of Manjummel Province, blessed the renovated church on 24th February 2020, Monday at 5pm. The blessing was preceded by the rally from five family unit blocks to the lake-view ground. After the blessing, the Archbishop offered the Holy mass concelebrated by Fr. Provincial and priests from Manjummel Province, Verapoly Archdiocese and other dioceses and religious congregations. The function was also blessed with the presence of important dignitaries from different platforms of the society. Kalasandhya-cultural programme by the parishioners and Agape followed the blessing and the mass.
Share on Facebook
Share on Twitter
Share on Pinterest