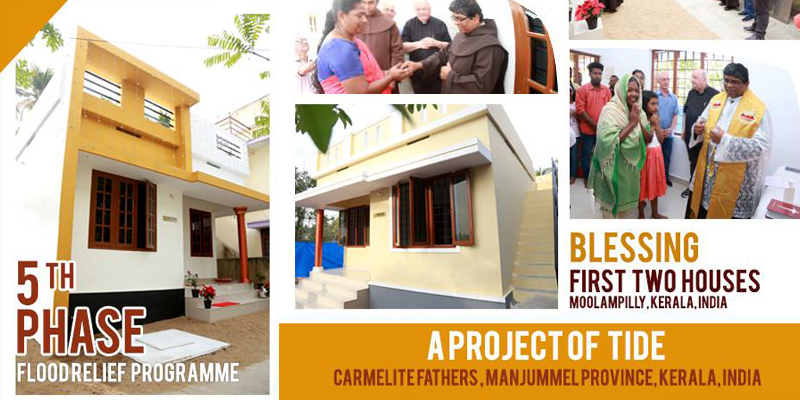 5TH PHASE FLOOD RELIEF PROGRAMME BY TIDE
Very Rev. Fr. provincial Blesses the newly built two houses at Moolampilly, a commencement of the fifth phase of flood relief program by TIDE
Rehabilitation works of TIDE ( Teresian Integral Development Endeavour) a Social service unit of Manjummel Province
The uninterrupted torrential rains in August created havoc causing floods and landslides, claiming lives, and displacing thousands in Kerala. The provincial Council realizing its mission met on 18th August and decided on an integral project for the relief work and integrated the particular initiatives under the common project. It was realized in five different phases of TIDE
First phase -Rescue operations and camps
Our fellow priests tried to involve actively in the relief work rescuing many people who were dangled in the houses. They were taken to various camps. The flood-hit regions required urgent relief in the form of drinking water, food, clothes, medicines and emergency supplies. Our three schools at Manjummel Guardian Angels Higher Secondary School, Guardian Angels' Public School and Guardian Angels' UP school & Little Flower Press & St. Joseph Hospital served as relief camps for 12 days for the families hit by the ravages of flood. Four of our school buses were at the service of the local authority for the rescue operations for three days. Camp was organized also at Mulavukad and Ayyampilly and families were hosted at Ernakulam, Aluva etc.
Second Phase –clean up mission
Social service department of our province organized a cleanup mission of houses who are financially poor and deprived of the presence of strong men at home. Students from Philosophy College, Aluva, Theology College, Jyotir Bhavan and a few fathers formed a strong team of 85 to lead the mission. Nearly 30 houses at Manjummel, Eloor, Olanad, Muttinakam were cleaned in three days. It was a unique experience for everyone to feel one with the dejected people around us and to help them pull themselves up.
Our St. Joseph Hospital defined itself & proved that it is a mission hospital visiting nearby six relief camps giving free service of doctors, nurses and medicines. The total estimated expense is as follows: Medicine at camps- Rs. 2, 55,000/- medical treatment at the Hospital- Rs.1,75,000/-Ambulance service- Rs.7,5000/- , Generator service – Rs. 1,25,000/-, tetanus injection 2000 and immediate help to the staff Rs. 4,00,000/- the total amount spent comes about Rs.12,000,00/-
Third phase – Pidiyarichoru
The program Pidiyarichoru was realized in its first phase with the generous support and service of many fathers and benefactors. The rice and dal and coffee powder and sugar came from various corners and enough for more than 2000 packets which were packed by the volunteers such as men and women, children and the youth in an atmosphere of festival enjoying the service for the suffering brothers and sisters. The packets have reached the destinations at Manjummel, Muttinakom, Varapuizha, Chennur, Chariyanthuruth, Gothuruth, Chennamangalam, Kottuvally, Pizhala, Panaiykulam, Kongorpilly etc.
Fourth Phase – Flood -House –Recovery
We selected 15 parish communities from Vijayapuram, Allepy, Varapuzha & Kottapuram dioceses. After a thorough scrutiny we had chosen 175 families for repair & renovation work of their houses. This is being carried out through the effective leadership of the respective parish priest and the parish central committees.
Fifth phase– Rebuilding the Dilapidated Houses
We selected 12 families whose houses were totally collapsed in the flood. Through the selfless service of Mr. Sojan, the architect we could acquire the drawing of houses with the permission from the local authorities. The construction of five houses is in its full swing while two are completed. On 20th January 2019 (Sunday) the newly built two houses at Moolampilly were blessed by Very Rev. Fr. Provincial in the presence of a few fathers. The presence of Rev. Fr. Don Roberto & Mr. Fanco, the friends of Our Provincial from Italy was an exhilarating one for those who assembled. Fr. Varghese Kanichukattu, Fr. Joseph Marroti, Fr. Jacob Vallomthayyil, Fr. Godwin Thimothy, Fr. Binish, Fr. Shibu, Fr. Francis Komaranchath & Fr. Nixon Jose blessed the occasion with their prayerful presence. Fr. Bibin Chothamparambil the newly appointment Vicar of Moolampilly parish expressed his sincere gratitude and appreciation to Very Rev. Fr. Provincial & OCD fathers for the concern expressed for the poor people in the format of new houses. He promised that he and the people at Moolampilly will keep the entire Province & its benefactors close to their heart whenever they are in prayer.
— with Tinu Antony,Monika Garlisi, Tijo Xavier, Jeevanaadam LC,Carmelitani Scalzi, Wilson Srampickal, Andrea Piscitelli, Antony Ponvelil, Manjummel Province,Judeson Rodriguez and Klca Klca.
Share on Facebook
Share on Twitter
Share on Pinterest