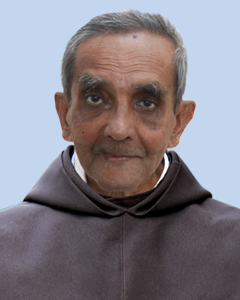 Fr. Zacharias Pullayil OCD
Birthday: 12-04-1936
Place: Gothuruth
Profession: 26-03-1956
Ordination: 18-03-1963
Death: 15-05-2020
He was born to Mr. Augustine and Mrs. Mary in the year 1936 on 12th of April (12-04-1936) at Gothuruth and to the Parish of St. Sebastian's Church, Gothuruth. Mr. P. A. Chakkappan, Mr. P. A. Mathukkutty, Mrs. Annie are his brothers and sister. He made his Simple Profession on 26th of March in 1956. He was Solemnly Professed on 26th of March in 1959. In the year 1963 on 18th of March he was ordained a priest. After his ordination he served the Province in many ways possible. He became the Editor of Cherupushpam Magazine. He served the Manjummel Province being Superior, Formator and Conventual in our monasteries at Good Shepherd Monastery, Kottayam, Holy Family Monastery, Ernakulam, St. Cornelius Monastery, Kolayad; Yesu Bhavan, Kanichukkulangara; St. Joseph's Monastery, Annamanada; C.R.C,St. Joseph's Monastery, Varapuzha. He was Parish Priest at Marayoor, Vattayal, Mangalore and Kottayam. He Served OCD Kuwait Mission for one year. In the recent years he was a member of Carmelite Monastery, Manjummel. He was a sought after Spiritual Director. He had a passion for Gregorian Chanting. He was an advocate of Scapular devoution.
Having advanced in years and weakened by old age ailments he rested in the Lord on 14 May 2020 at the age of 84. He had served our Province in many ways and under varied titles.
His funeral service was held on 15 May, 2020 at 10:00 a.m. in Manjummel. The funeral service was officiated by Very Rev. Fr. Augustine Mulloor, Provincial, and co-celebrated by Rev. Frs. Antony Ponvelil and Varghese Kanichukatt. Following the Covid-19 restrictions imposed by the government, the attendance was very few. However, arrangements were made for the closest family members of Fr. Zacharias to participate in the funeral rites.