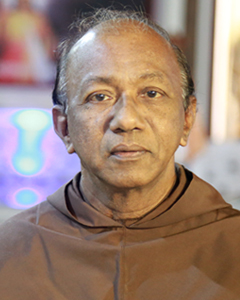 Fr. Francis Cheriakadavil of St. Mary
Birthday: 25-09-1945
Place: Pizhala
Profession: 11-02-1968
Ordination: 19-12-1974
Death: 30-7-2021
With deep sorrow we regret to inform you the passing away of our beloved Father Francis Cheriyakadavil OCD (76). He belonged to St. Francis Xavier Church, Pizhala in the Archdiocese of Verapoly. Born on 25-09-1945 at Pizhala, he was one of the seven children of Xavier Cheriyakadavil and Philomina. With an ardent desire to become a Carmelite Priest, he entered the Manjummel Province and made his First Profession on 11-02-1968 at Podanur in Tamil Nadu and was Ordained a Priest on 19-12-1974 at St. Joseph's Mangalapuzha Seminary, Kerala.
Fr. Francis Cheriyakadavil will be ever known as a zealous missionary who spent most of his energy for the Andhra Mission. After spending his initial eight years in our different houses in Manjummel, Mangalapuram, Pius Nagar and Ernakulam he left for Andhrapradesh to serve the people of God there. He worked there tirelessly for the mission for 27 long years. Returning to Kerala in the year 2010 he spent his life in our monasteries at Kottayam, Karaparampu, Tiruvalla, Perumpadappu, Ernakulam.
He spent his last years at our San Juan Bhavan Monastery, Unichira. He was admitted in our St. Joseph's Hospital after being affected by Covid-19. He breathed his last today at about 07:30 pm.
the funeral of Rev. Fr. Francis Cheriyakadavil will be on Sunday (1st Aug). The mortal remains will be brought to our Manjummel Church at 1 pm (sunday) after cremation( due to Covid), and there will be the possibility to offer our prayers. The funeral service will begin at 03:30 pm. Let us pray for the repose of his soul.