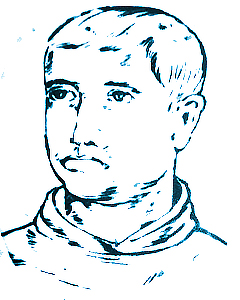 Bro. Deacon Boniface Kulikkat
Birthday: 22-03-1864
Place: Kumbalangi, Kerala, India
Profession: 08-03-1891
Ordination:
Death: 28-06-1898
Kumbalangi, a large village situated in the southern end of Ernakulam district is highly populated with Christians. Here we see the famous 'Pazhangatt Church' under the patronage of St. George. Belonging to Cochin Diocese, the church has a history of more than 450 years. The church and the presbytery still hold its ancient majesty and splendor.
Bro. Boniface was born to the loving Kulikkat couple Achaakko and Meenkamma on 22nd March, 1864. Desiring to become a diocesan priest he joined Varapuzha Seminary and began his ecclesiastical studies. But during this time, he realized his vocation to Carmelite religious life. There were also other aspirants in the seminary having the same thought and desire. Rev. Fr. Calosiacimus OCD was the seminary rector then.
With the instruction of the spiritual director, he joined Manjummel Carmelite monastery and received his religious habit on 8th March 1891. During the days of religious-priestly formation he received the minor orders, made his solemn profession and became a deacon. Bro. Boniface was very zealous in the observance of the religious rules and obligations and lived a very devoted life. Gifted with a beautiful voice with exceptional oratory talent, the religious authorities had great hope in him.
It was then with great sorrow that the authorities received the news that bro. Boniface had been infected with small pox. It was a major epidemic at that time. Prayers were offered for him along with the treatment. But everyone had to submit to the Divine will. On 28th June 1898, this holy brother with a beautiful smile on his face went into the abode of the Heavenly Father.
Even when he was acutely sick, he received with smile the severe pain and the loneliness and suffered everything without complaint. It was a moment when everyone including the family members and the religious cried literally at the funeral. He was buried in the Varapuzha cemetry
Translated from the book
Manjumala Poothulanjappol
(Author: Fr. Firmus Kachapilly OCD)
Translated By Fr. Anson Antony Ackappilly OCD