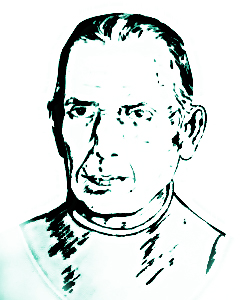 Bro. Anastasius of Sacred Heart of Jesus
Birthday:
Place: Mundamveli, Kerala, India
Profession: 26-12-1874
Ordination:
Death: 05-02-1884
Mundamveli is a beautiful and relatively big village situated in the southern part of Ernakulam district. On its west lies the vast Arabian Sea. The catholic church and the parish under the patronage of St. Louis Gonzaga over here is one of the ancient and largest parishes.
Bro. Anastasius was born here in the famous Vattathara family. His baptismal name was Antony. Desiring to be a Carmelite religious he joined Elthuruth Monastery on 8th August,1868. Later he moved to Mannanam Monastery. On Sunday, 26th April, 1874 when Manjummel monastery was established for the Latin Rite religious, Bro. Anastasius was one of the first religious to join. He made his religious profession on 26th December,1874.
He was strenuously devoted to the manual labour in the monastery. Besides, he spared time to help the nearby parish priests. He was also very much loved by the diocesan authorities. After the usual siesta in his room, he used to spend most of his precious hours in front of the Blessed Sacrament.
Be it a rainy or sunny day, he would work at length with the workers in the monastery compound. He used those opportunities to introduce Christ to them and to the holy works of the saints. This led to the conversion of many people.
The community members could see in him an example of a simple life dedicated to prayer and hard work. Bro. Anastasius proved to the religious authorities that even a simple person can too lead a strong devoted religious life.
The continuous hard work deteriorated his health eventually. Later He was down with flu. On 5th February 1884 Bro. Anastasius was called to the eternal abode of the Heavenly Father. The construction of Manjummel Monatery Church was not still completed. Even then he was buried inside the church near to the end of the north-east wall of the church.
Translated from the book
Manjumala Poothulanjappol
(Author: Fr. Firmus Kachapilly OCD)
Translated By Fr. Anson Antony Ackappilly OCD